friday the 13th and the number of the beast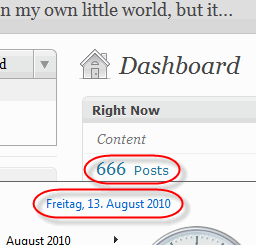 gerade wollte ich noch irgendwelches belangloses gesabbel bloggen, da hab ich noch belangloseres gefunden!
es ist freitag der dreizehnte und ich habe 666 postings in meinem blog.
nein, ich bin nicht aberglaeubisch und "the number of the beast" ist ein geiler song von iron maiden 😉
mal gespannt, was die bildzeitung zum thema freitag der dreizehnte wieder zum besten gibt…. argl… solche gedanken hab ich schon. ich sollte die mal verklagen.