vmware server startschwierigkeiten (2)
au mann… waere ja auch zu schoen, wenn mal alles klappen wuerde. jetzt wollte ich ein w2k8r2x64 installieren und was bekomme ich zu sehen?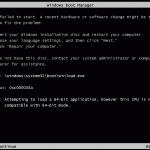 "Attemping to load a 64-bit application, however this CPU is not compatible with 64-bit mode."
tolle wurst. hab ich da in der eile die falsche cpu gekauft? ein kurzer blick in google sagt mir, dass das auch noch andere ursachen haben kann. fehlerhafte vmware konfiguration, falsche bios einstellungen, falscher chipsatz etc und natuerlich die falsche cpu. ein kurzer blick in die intel specs lassen nix gutes vermuten. ich geh aber heut nicht mehr in den keller um nachzusehen. und wie ich die relevanten informationen aus dem betriebssystem auslese, mag ich heute auch nicht mehr rausfinden.

UPDATE 20091228: erst habe ich (online) im handbuch des motherboards nachgesehen, ob es eine "vt"-option gibt. da es sie gibt, bin ich dann doch mal 3 stockwerke nach unten gerannt und hab diese im bios aktiviert. und siehe da… es funktioniert! ich kann mein w2k8r2x64 installieren! ich frage mich nur, warum sowas ueberhaupt abgeschaltet ist…