vmware-server waste time
es war mal wieder so weit und ich musste einen vmware server installieren. dank meines eigenen howto's sollte das eigentlich kein problem sein… dachte ich. die installation hat soweit auch geklappt (mit den beschriebenen tricks). bloss der erste connect mit dem browser nach der oblogatorischen fehlermeldung wegen des zertifikats ins leere. in der datei /var/log/vmware/hostd.log konnte ich massig dann eintraege wie diese finden:
[2010-08-18 21:43:51.807 'Proxysvc' 1076664656 warning] SSL Handshake on client connection failed: SSL Exception:
das war sowohl im firefox, als auch im IE so. langes googlen brachte viele voodoo tricks ans tageslicht, aber darunter auch eine ernsthafter, der dann geholfen hat:
Turns out it is Firefox 3.6, in the update the default setting for SSL 2 is off, easy fix, go to about:config and switch security.enable_ssl2 to true.
nach einem reload hat dann der firefox endlich die loginmaske angezeigt. lustigerweise hats dann auch mit dem internet explorer funktioniert. verstehen muss ich das jetzt nicht…
gefreut hat mich, dass der firefox nun ein "bischen kompatibler" zu sein scheint. den mist, den er beim letzten mal angezeigt hat, macht er jetzt nicht mehr. dafuer tauchen andere kuriositaeten auf:
meine physikalische maschine hat 4GB ram:

und der vmware server sagt mir, dass ich maximal 8GB vergeben kann, weil die kiste sonst zu swappen anfaengt: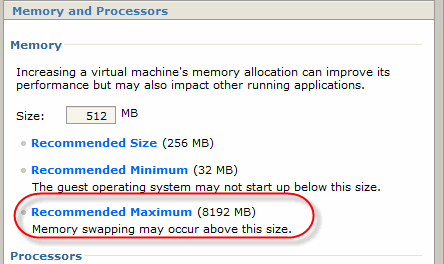 hmm… ich wills mal lieber nicht ausprobieren. auf jeden fall scheint erstmal alles zu laufen. die webgui ist gewohnt scheisse und haengt ab uns zu, die remote console funktioniert auch nicht immer beim ersten mal, und manchmal muss man sich einfach ausloggen und wieder einloggen, damit die kleinen merkwuerdigkeiten wenigstens termporaer verschwinden.
und wenn die gui schon merkwuerdig ist, muss sich mein server anscheinend auch noch merkwuerdig verhalten… aus heiterem himmel zeigt mir die ssh session das an:

ich wars nicht. die kiste steht im keller und ich bin drei stockwerke weiter oben. ich gehe mal davon aus, dass niemand in meinem keller war und die kiste ausgeschaltet hat… suspicious…