eine neue funktion in wordpress ist das automatische update. still und heimlich haben die das eingefuehrt.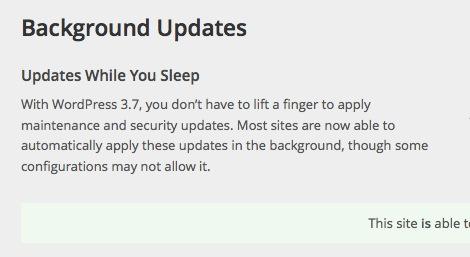 eine meiner wordpress installationen ist etwas anders als die anderen. ich weiss noch nicht genau warum, aber da wollen die automatischen updates nicht funktionieren. das finde ich aber im endeffekt viel netter, denn:
This site is not able to apply these updates automatically. But we'll email you@domain.tld when there is a new security release.
ja, schickt mir einfach eine mail, wenn was da ist.
man muss etwas suchen, um herauszufinden, wie man das alles beeinflussen kann. in der mitgelieferten "wp-config-sample.php" steht leider nichts drin. auf github findet man dies:

// Enable Automatic Updates for all updates
define( 'WP_AUTO_UPDATE_CORE', true );
// Disable Automatic Updates for all updates
define( 'WP_AUTO_UPDATE_CORE', false );
// Only allow Automatic Updates for minor updates
define( 'WP_AUTO_UPDATE_CORE', 'minor' );

in diesem bespiel wuerden als nur "die kleinen updates" installiert. also z.b. eine 3.7.2 mit security updates usw., aber nicht die 3.8.
hmm.. die parameter stehen allerdings in widerspruch zu dem, was auf wordpress.org geschrieben steht:
[…] If the constants DISALLOW_FILE_MODS or AUTOMATIC_UPDATER_DISABLED are defined, automatic updates are disabled […]
und die option fuer die email-benachrichtigung fehlt mir auch. vielleicht passierts ja automatisch? aber dann muesste man das auch abschalten koennen. nun ja… ich werde es ausprobieren muessen.
generell duerfte es vielen leuten unheimlich sein, wenn da was automatisch passiert. "updates while you sleep" kann ja theoretisch auch so aussehen, dass man aufwacht und die webseite nicht mehr funktioniert. die hoster werden es mit sicherheit toll finden, weil endlich mal "jemand" updates einspielt. und fuer die boesen buben ergeben sich ganz neue angriffsszenarien, die in zukunft massive auswirkungen haben koennen.