facebook? wtf? (3)
…und als fortsetzung des ersten und zweiten postings:
Facebook-Chef verspricht mehr Datenschutz
Mehr Facebook-Nutzer als Zeitungsleser in Arabien
Facebook erlaubt Nutzern mehr Kontrolle über Privatsphäre
Pakistan: Facebook für Muslime gegründet
Facebook in Bangladesh wegen Satire gesperrt
Facebook stellt vereinfachte Datenschutz-Einstellungen vor
und hier ein besonderes schmankerl:
Security's Top 4 Social Engineers Of All Time
[…] he crafted a web portal and lured millions of people into his pocket. He established confidence and trust with his users, facilitating them to divulge the secrets of their lives by relinquishing personal information, habits, behaviors, activities, and media. He collected all of this information and then sold it legally for millions of dollars, unlike others who served harsh prison terms. Incredibly, he accomplished this in a time when identity theft has become household issue and guarding your personal information has become a way of life.
In case you have you not guessed our number one social engineer, it's Mark Zuckerberg, founder and CEO of Facebook. Well done, Mark, 400 million people fell for your ruse.
…das braucht man garnicht weiter zu kommentieren. der herr zuckerberg ist der groesste social hacker aller zeiten.
und gestern abend habe ich selbst erlebt, wie sich jemand aufregt, nachdem bei einer suche bei dastelefonbuch.de auch sucherergebnisse bei facebook angezeigt werden. zitat: "das ist ja uuunglaublich… da ist man jetzt schon automatisch in facebook drin, wenn man sich ins telefonbuch eintragen laesst. das ist ne frechheit. wo haben denn die die ganzen daten her?"
ok, ganz so schlimm ist es (noch) nicht. die haben auf der webseite nur eine facebook suche mit eingebunden. und je mehr die leute von sich preis geben, umso genauer wird auch die trefferquote sein. trotz fehlinterpretation der angezeigten webseite finde ich es schonmal positiv, dass ein gelegenlicher internetnutzer von alleine merkt, dass das alles ein bischen zu weit geht bzw. zu weit gehen kann.
so sah das auf der webseite aus: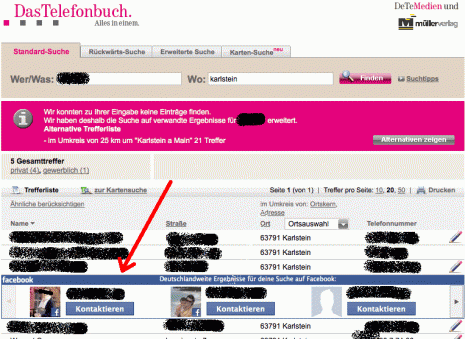 30. May 2010 by sd
Categories: Uncategorized | Tags: facebook, internet, social network | Leave a comment